MegaMouth® 2.0 with NEW Hex Thru-tube Rod and Lever-lock Pic Mount
Includes 40 yards of 200# line
PROVEN TO BE THE TOUGHEST FREE-SPOOLING SPINCAST REEL ON THE MARKET!
Updated MegaMouth 2.0 Pic Mount! Learn More Here
Unlike other spincast bowfishing reels that are really just modified fishing reels, MegaMouth® was built from the ground up and strictly for bowfishing!
Buttonless FreeWheel® design – no way to accidentally shoot an unreleased reel
Ultra-wide MegaMouth® cone reduces friction and line-whip
Dual, no-fry stainless steel gears
FireFast retrieve – unmatched torque and fastest (28″ per crank) retrieve in the industry
Three solid axial pins engage more quickly and will not break
Quick-adjust drag that can be adjusted mid-fight
Adjustable T-Bar clutch
Power-crank big fish without concern thanks to drive shaft anti-reverse system
Improved toolless, patented, hex-set thru-tube torque rod
Improved hex, lever lock picatinny rail mount system allows toolless adjustment and removal (patent pending)
40 yards of premium, pre-spooled 200# test line
Converts easily from right to left hand
WARNING – California Prop 65
If you are mounting to a G-Rex Bow you will also need to purchase the shorter stabilizer rod.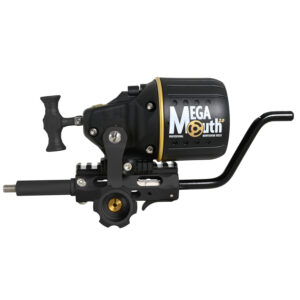 This item:
MegaMouth® 2.0 with NEW Hex Thru-tube Rod and Lever-lock Pic Mount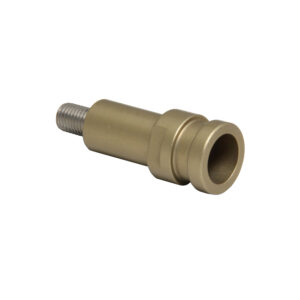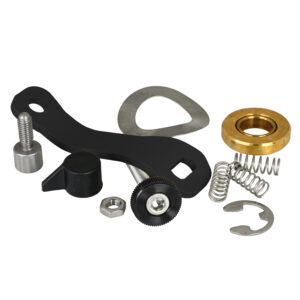 Description
MegaMouth 2.0 Features
v2.0 UPDATED LINE SPOOL & BEARING - We've increased line capacity on the spool by reducing the diameter of the core.  v2.0 reels will have a new brass bearing in the spool.  This increased line capacity allows for an additional 10 yards of line.  All MegaMouth® version 2.0 reels now come with 40 yards of line installed. When purchasing a replacement line spool, be sure to look for the version 2.0 spools with 40 yards of line. The new line spool utilizes a new, smaller brass bearing. The original spool will not work with the version 2.0 reel. The original line spool utilizes a larger steel and black bearing.

v2.0 UPDATED TRANSMISSION- The transmission has been reengineered to accept the new line spool and modified line deflectors. When purchasing replacement line spools, be sure to look for the version 2.0 spools with 40 yards of line. Original MegaMouth® reels do NOT have the updated transmission and will NOT work with the v2.0 spools.

v2.0 FRONT LINE DEFLECTOR & SPRINGS- The front line deflector has been updated to include 3 boss pins which allow the new Boss Springs #4016 to twist onto. These new boss springs are heavier gauge wire and longer in length. They twist on to minimize loss when the line deflector is removed and have a much longer life.  Replacement springs #4016 can be purchased on our replacement parts page.

v2.0 REAR LINE DEFLECTOR- The MegaMouth® version 2.0 Rear Line Deflector has also been updated to include a larger transmission shaft surface area.  The extended transmission boss on the Rear Line Deflector uses up extra space from the smaller line spool bearing, creating more surface contact with the transmission, minimizing any side-to-side movement of the Line Deflectors.
Advantages of a MegaMouth Rod
---

NEW ROD SHAPE
Improves shoot-ability and reduces line twist which improves overall operation of the reel.

---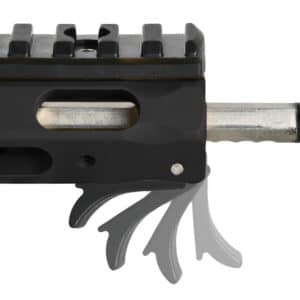 QUICK RELEASE LEVER (PATENT PENDING) 
Toolless, quick-release lever fits into keyed slot and provides quick adjustment and removal. Patent Pending
---
MULTI-KEYED POSITIONING (PATENT PENDING)
Hex Thru-Tube rod has twelve positioning slots for fast removal and adjustment, even in the field.
---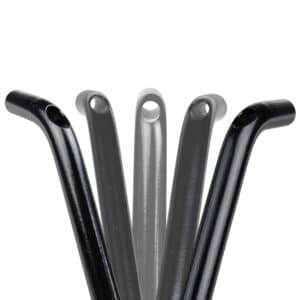 POWDER COATED FINISH
A drilled and deburred hole is vibratory finished with a powder coat paint providing a smooth finish and full size hole diameter. Powder coating reduces line friction on the shot and a gives it a sleek look.
---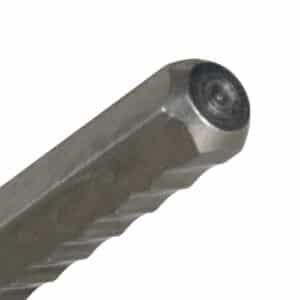 PATENTED HEX SHANK
A patented hex shank provides easy location of center shot and eliminates unwanted rod rotation.
---
Reviews
35 reviews for
MegaMouth® 2.0 with NEW Hex Thru-tube Rod and Lever-lock Pic Mount