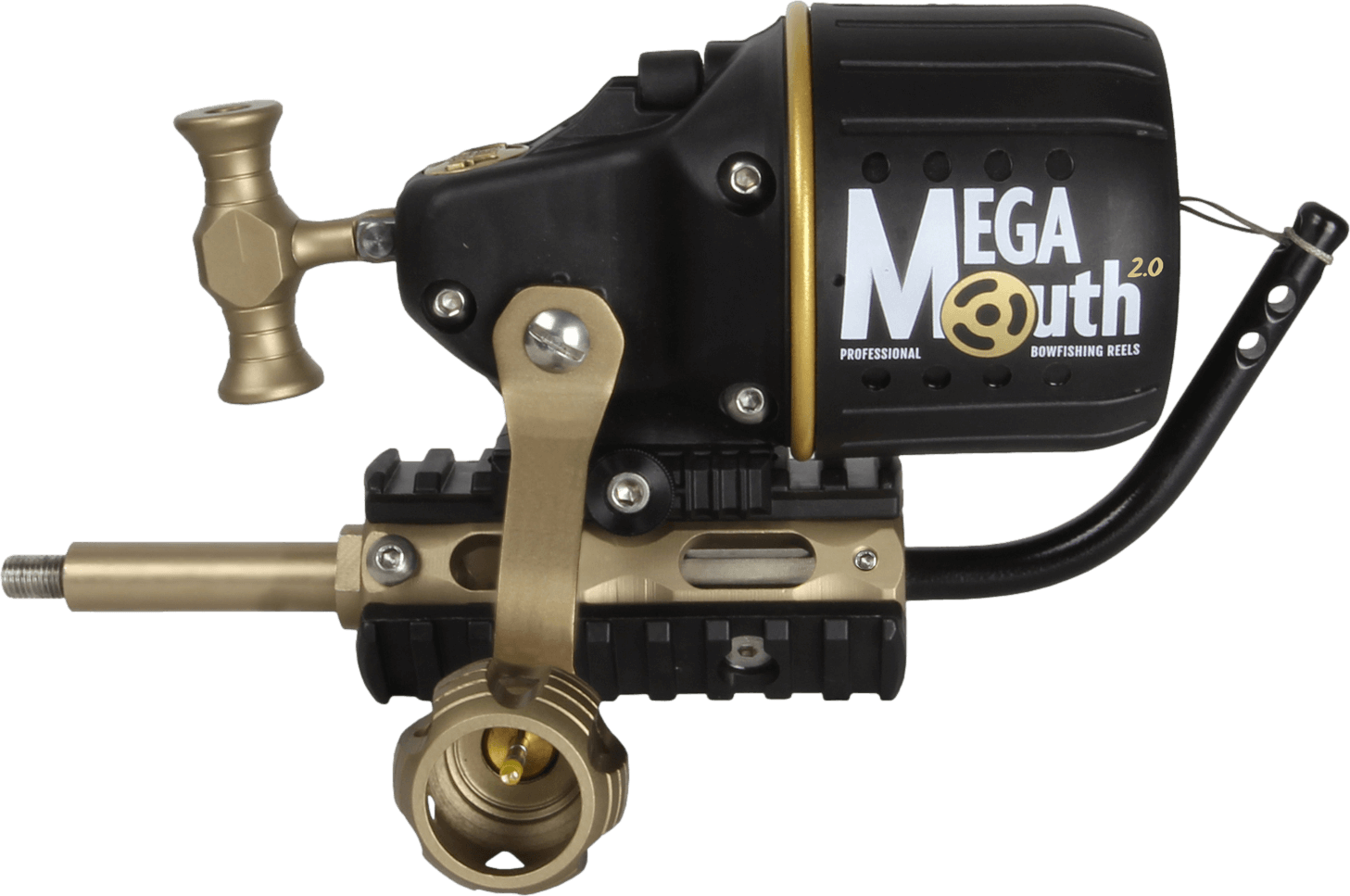 Built from the ground up, MegaMouth eliminates all of the problems you've ever had with a bowfishing reel!
No buttons to push. Durable gear system that lasts! Anti-reverse that won't fail. No-restriction cone. High-torque. High-speed retrieve. Pins that won't break. Easy-to-adjust drag. And more!

MEGAMOUTH IS DIFFERENT FROM MODIFIED FISHING SPIN CASTERS IN SIX FUNDAMENTAL WAYS:

1. MegaMouth is buttonless and free-spooling
Instead of pushing a button to release it before the shot, with MegaMouth, you pull a clever T-Bar handle after the shot to engage the retrieve.

2. MegaMouth is built tougher
Modified fishing spin casters rarely last very long. They're simply not built to bowfish. They're built to fight 3 pound bass hooked in the mouth, not 30 pound carp shot in the side.

3. MegaMouth retrieves sooner
With other spin cast reels you must reach with your non-bow hand for the reel handle and turn it to engage. By then, the fish has peeled off several extra feet of line which must be retrieved. 

4. MegaMouth retrieves faster
MegaMouth is all about performance. When you shoot MegaMouth, the wide open reel mouth means far less friction. Then, when it's time to pull in a fish or your arrow, MegaMouth's 4:1 gear ratio cranks in an unmatched 28 inches of line per revolution.

5. MegaMouth also lights up the night!
Four internal lights can easily be turned on creating a cool effect for night bowfishing.

6. MegaMouth is made in the USA!
MegaMouth is 100% made in the United States!

MEGAMOUTH IS MADE IN THE USA! CHECK OUT THIS BEHIND THE SCENES VIDEO OF MEGAMOUTH BEING MADE!