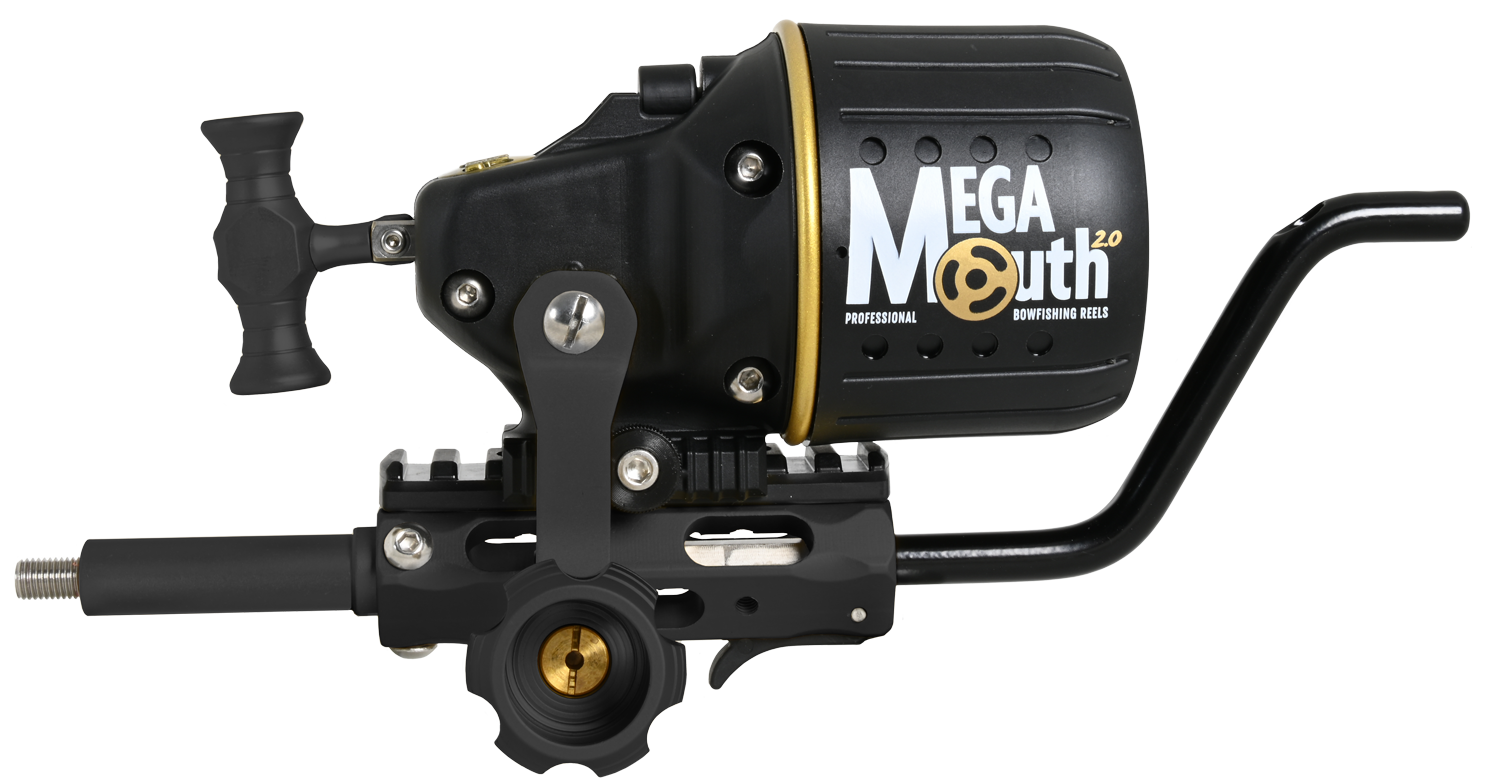 Built from the ground up, MegaMouth eliminates all of the problems you've ever had with a bowfishing reel!
No buttons to push. Durable gear system that lasts! Anti-reverse that won't fail. No-restriction cone. High-torque. High-speed retrieve. Improved thru tube torque rod! Toolless quick release. Pins that won't break. Easy-to-adjust drag. And more!
SMOOTH PERFORMANCE: EASY SPOOLING
MegaMouth features nine ball bearings for ultra-smooth performance. A handy through-hole in the spool core makes installation of new line a cinch and prevents the line from slipping on the spool.
UNIVERSAL DESIGN
MegaMouth can be easily converted to right or left hand. Just remove the screw on the other side of the reel, remove the handle and reinstall using the screw that was first removed.  Reinstall the screw to the other side.  It's that easy!
"FIREFAST" RETRIEVE
MegaMouth's 4:1 gear ratio and extra long handle give you the fastest line retrieve per crank and unmatched torque in the industry, of 28" of line retrieve per crank.
"QUICK-ADJUST" DRAG
Instead of the common, difficult-to-adjust dial drag, MegaMouth employs a finite 180° Quick-Adjust drag system that's far easier to adjust while fighting a fish.
"T-BAR" CLUTCH- BOWHAND ENGAGEMENT
Pull the T-Bar Clutch to engage the MegaMouth spool which allows you to retrieve your arrow or pull in a fish. T-Bar position is adjustable so it's within easy grasp of your bow hand.
"PIC RAIL" MOUNT
MegaMouth's picatinny rail mount gives you quick release detachment and allows easy forward/backward position adjustment. This sturdy mount won't loosen with use and can be used to easily mount lights and other accessories.
"DRIVESHAFT" ANTI-REVERSE
While the anti-reverse on other reels works via the reel gear, putting undue stress on what is already an over-taxed gear, MegaMouth runs its anti-reverse on the main shaft. This allows you to confidently pull arrows from the thickest muck or power crank big fish without worry.
MEGAMOUTH ULTRA-WIDE REEL CONE
Friction is the enemy. MegaMouth's ultra-wide, flared reel cone dramatically reduces both friction and line-whip as the line exits the reel and shoot-through rod during the shot.
LEVER LOCK
MegaMouth features a new & improved hex, lever lock picatinny rail mount system that allows toolless adjustment and removal (patent pending). 
MEGAMOUTH IS DIFFERENT FROM MODIFIED FISHING SPIN CASTERS IN FIVE FUNDAMENTAL WAYS:

1. MegaMouth is buttonless and free-spooling
Instead of pushing a button to release it before the shot, with MegaMouth, you pull a clever T-Bar handle after the shot to engage the retrieve.

2. MegaMouth is built tougher
Modified fishing spin casters rarely last very long. They're simply not built to bowfish. They're built to fight 3 pound bass hooked in the mouth, not 30 pound carp shot in the side.

3. MegaMouth retrieves sooner
With other spin cast reels you must reach with your non-bow hand for the reel handle and turn it to engage. By then, the fish has peeled off several extra feet of line which must be retrieved.

4. MegaMouth retrieves faster
MegaMouth is all about performance. When you shoot MegaMouth, the wide open reel mouth means far less friction. Then, when it's time to pull in a fish or your arrow, MegaMouth's 4:1 gear ratio cranks in an unmatched 28 inches of line per revolution.

5. MegaMouth is made in the USA!
MegaMouth is 100% made in the United States!