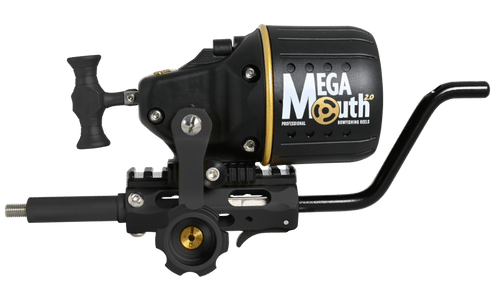 MegaMouth V2.0 Update
In an effort to constantly improve and enhance our products we have recently made some enhancements to the MegaMouth 2.0 Bowfishing Reel.

We have improved the hex thru tube torque rod with a new shape and design. The rod now has a one inch flat on the end to improve shoot-ability, reduce line twist, and continually bring line in centrally while retrieving. This design enhancement will give you added torque and leverage when fighting a fish, making fish retrieval as quick and efficient as possible.

We are also proud to announce a toolless, quick release lever on the picatinny mount. You no longer need to carry allen wrenches to loosen tiny set screws to adjust the distance on your torque rod or to remove it. The pic tube incorporates a black locking lever that locks and releases the hex thru tube torque rod. The torque rod now also includes multiple adjustments slots so that the reel can be custom set for the shooter.

All of the internal components and gearing of the MegaMouth 2.0 that you have trusted are still there ensuring you have the strongest and most durable bowfishing reel on the market!