V2.0 MegaMouth – Factory Upgrade
Let us convert your original MegaMouth® reel into a MegaMouth v2.0.  Due to complexity and potential warranty issues, your reel must be sent directly to MegaMouth® Bowfishing to have our technicians complete the upgrade.  We will contact you if there are other issues that need to be addressed while upgrading your reel.
Place your order for the Factory Upgrade directly on the website. The price includes labor to disassemble, replacement parts and reassembly. There will be additional cost for expedited shipping.
YOU ARE RESPONSIBLE FOR SHIPPING YOUR REEL TO US. YOU MUST INCLUDE A PRINTED CONFIRMATION OF YOUR PURCHASE (WITH ORDER NUMBER). PLEASE SHIP REEL TO:
MEGAMOUTH
212810 Connor Avenue
Stratford, WI 54484
Factory Update Includes
v2.0 Transmission assembly
v2.0 Front line deflector
v2.0 Rear line deflector
v2.0 Brass bearing for line spool
v2.0 High capacity line spool
v2.0 Three heavy-duty boss springs
40 yards of 200# test line
Labor
WARNING – California Prop 65
Benefits of Upgrading to MegaMouth 2.0!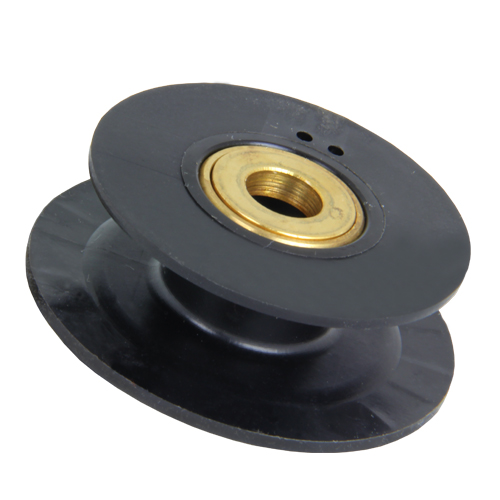 v2.0 UPDATED LINE SPOOL & BEARING
We've increased line capacity on the spool by reducing the diameter of the core.  v2.0 reels will have a new brass bearing in the spool.  This increased line capacity allows for an additional 10 yards of line.  All MegaMouth® version 2.0 reels now come with 40 yards of line installed. When purchasing a replacement line spool, be sure to look for the version 2.0 spools with 40 yards of line. The new line spool utilizes a new, smaller brass bearing.
The original spool will not work with the version 2.0 reel. The original line spool utilizes a larger steel and black bearing.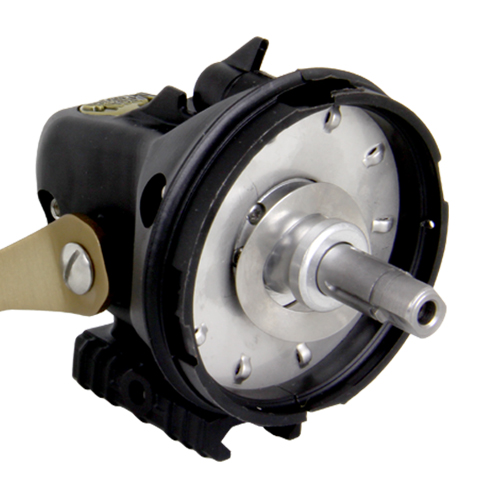 v2.0 UPDATED TRANSMISSION
The transmission has been reengineered to accept the new line spool and modified line deflectors. When purchasing replacement line spools, be sure to look for the version 2.0 spools with 40 yards of line. Original MegaMouth® reels do NOT have the updated transmission and will NOT work with the v2.0 spools.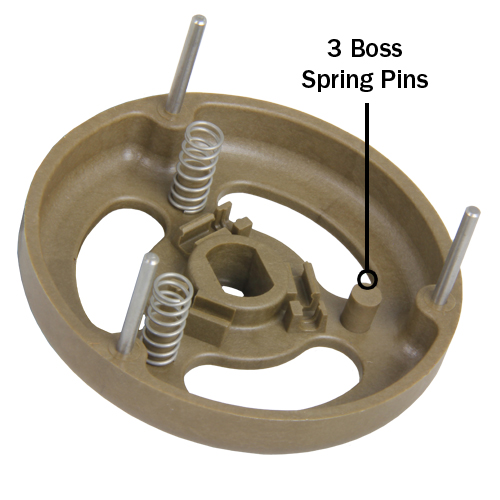 v2.0 FRONT LINE DEFLECTOR
The front line deflector has been updated to include 3 boss pins which allow the new Boss Springs #4016 to twist onto. These new boss springs are heavier gauge wire and longer in length. They twist on to minimize loss when the line deflector is removed and have a much longer life.  Replacement springs #4016 can be purchased here.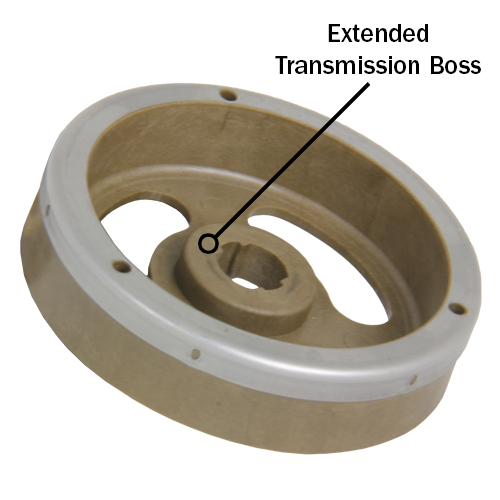 v2.0 REAR LINE DEFLECTOR
The MegaMouth® version 2.0 Rear Line Deflector has also been updated to include a larger transmission shaft surface area.  The extended transmission boss on the Rear Line Deflector uses up extra space from the smaller line spool bearing, creating more surface contact with the transmission, minimizing any side-to-side movement of the Line Deflectors.